Hundreds if not thousands of people in the United States, Canada, the United Kingdom, New Zealand, and Portugal received small parcels with mysterious seeds in their mail in recent weeks, according to The Guardian.
Most recipients found black or white seeds of unknown plants in those small transparent bags. Many parcels had labels from China Post. However, Jan Goward from the Guardian story received his package from Singapore. And a parcel received in Auckland, New Zealand, came from Zambia. So, it seems that the new phenomenon might have wide geography.
The packages have normal destination addresses and names, however, have the wrong description of the items written on them. Typically, they were listed as toys or jewelry: you can see the content of the packet in the image below was declared as "stud earrings".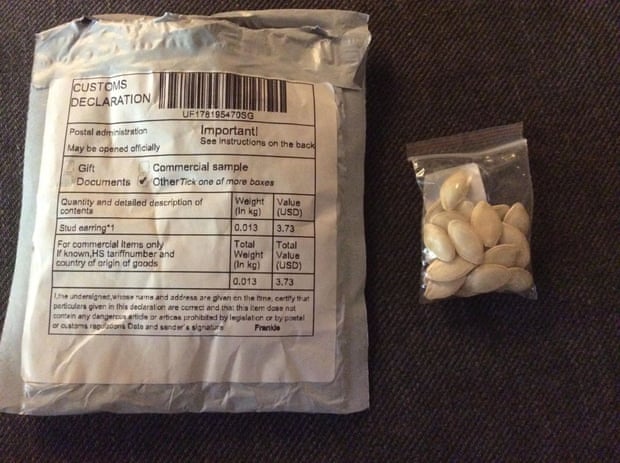 The Guardian publication suggests that in this way the senders wanted to avoid problems with the Customs and Border Protection. As we know, their restrictions on plants are very harsh. However, there is a different theory (keep reading).
The United States has seen the most cases of unwanted packages. In Florida alone, strange parcels were sent to more than 600 people. Similar instances occurred in 12 different US states. One American received three deliveries in one week!
More than a hundred shipments have arrived in the United Kingdom, as well as a number of other countries.
The US Department of Agriculture (USDA) urged Americans not to plant the "suspicious, unsolicited" seeds and destroy them immediately. The UK's Animal and Plant Health Agency (Apha) is also investigating reports of comparable incidents across the country.
At the same time, one Texas resident has admitted that she received the package and considered it a gift. She then planted her seeds, but nothing grew out of them. At least, for now.
The suspicious packages sparked global biosecurity concerns. The US and UK have launched a joint investigation into origins of those shipments.
There is an opinion that the seeds might have been sent to random addresses by Chinese online sellers. They possibly did that in an attempt to generate an online transaction, write fake reviews, increasing the overall ratings of their stores, and, therefore, boosting their online businesses. Pretty savvy but dangerous move by scammers!